For the second year now, I've been providing the teas for a stunning garden in Radcot, just outside Faringdon. Set down by the pond, based in the summer house which I bedeck with summer bunting, I serve an array of cakes with tea and coffee to hordes of hungry garden enthusiasts.
I also run my coffee shop at the monthly auctions at the Kidson-Trigg Salerooms in Highworth, Wiltshire where I sell yet more cakes but even more bacon sandwiches!
The cakes which are proving really popular at the moment are the gluten free versions of our favourites, and they taste just as good. Why not try them at home and see for yourself? Both these cakes make excellent puddings too – so why not add an indulgent scoop of ice cream or even better, some warming custard when you serve them up!
Gluten Free Tunisian Orange Cake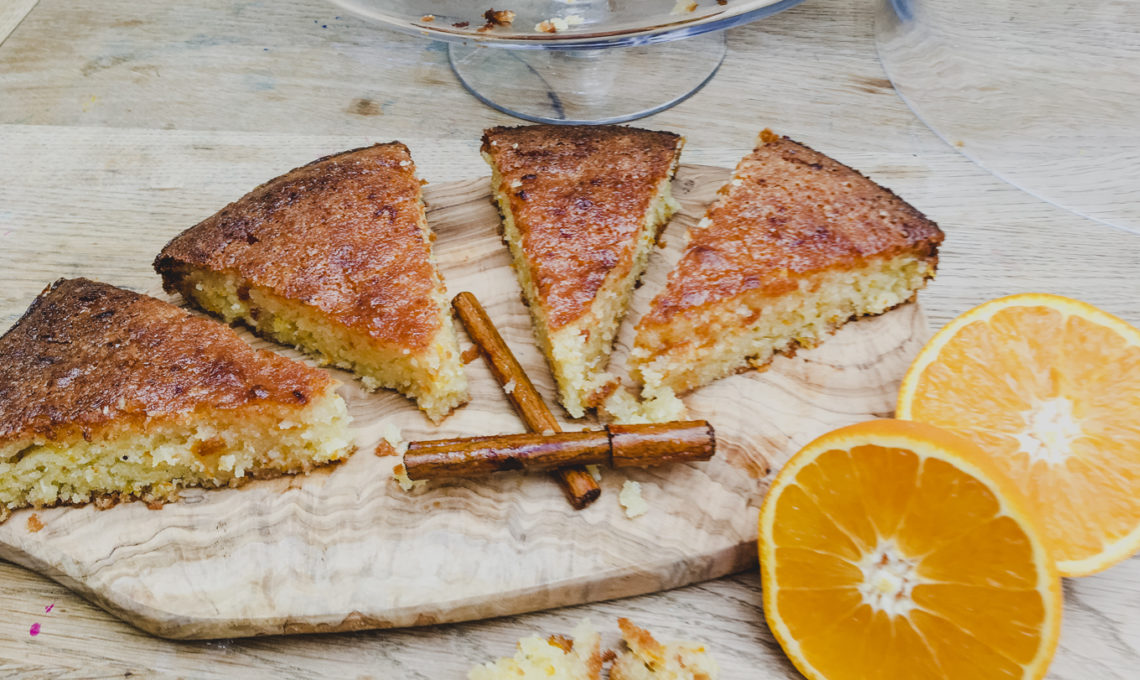 I've adapted this recipe from the Ballymaloe Cookbook. The original recipe calls for a little less than the quantities I've used here, but I have multiplied them by 1.5 in order to fit my rather battered but brilliant 23cm cake tin, which I grease and then line with parchment.
It is important to note that this cake goes into a COLD oven!! If you're planning on making more than one cake, just make sure you get this one cooked first!
Gluten Free Tunisian Orange Cake
Gorgeous fruity cake made with ground almonds and gluten free breadcrumbs and drenched in a spiced citrus syrup

Ingredients
75

g

gluten free breadcrumbs

300

g

golden caster sugar

150

g

ground almonds

2.25

tsp

baking powder

6

large

eggs

300

ml

sunflower oil

1.5

oranges

zest

1

lemon

zest
For the syrup
The juice of the zested oranges and lemon

75

g

caster sugar

5-6

whole cloves

2

sticks

cinnamon
Instructions
Grease and line a 23cm cake tin with baking parchment


Mix the dry ingredients together in a mixing bowl.


Add the eggs to the oil in a jug, whisk together and pour into the dry ingredients and mix well.


Add the zest of the oranges and lemon and mix again, then pour into the prepared cake tin.


Put the tin into a cold oven, turn it onto 180C/160C fan, gas mark 4, and bake for 45-55 minutes.


While the cake is cooking, mae the syrup by combining all the syrup ingredients in a small pan. Stir slowly over a gentle heat to dissolve the sugar, then bring to the boil, turn down and simmer for 3-5 minutes until syrupy.


When the cake comes out, make lots of holes all over the surface and pour the syrup in.


When it is cool and ready to serve, I removed any stray cloves and put the cinnamon sticks in the centre of the cake.

Gluten Free Carrot Cake
This is such a classic bake, and when you make it with three layers (only two in this picture but in larger tins) it will always look showstopping and go down an absolute treat! It's hard to beat a moist slice of spiced carrot cake at this time of year…
Gluten Free Carrot Cake
A wonderfully spiced cake with a majestic three layers and tasty cream cheese frosting

Ingredients
For the cake
300

g

soft light brown sugar

3

eggs

300

ml

sunflower oil

300

g

gluten free plain flour

1

tsp

baking powder

1

tsp

bicarbonate of soda

1

tsp

ground cinnamon

1

tsp

ground ginger

1/2

tsp

salt

1

tsp

vanilla extract

300

g

peeled and grated carrots
For the cream cheese frosting
300

g

icing sugar

50

g

unsalted butter

room temperature

125

g

cold cream cheese
Instructions
For the cake
Preheat the oven to 170C/325F/Gas Mark 3. Grease and line 3 x 20cm cake tins.


Blend the sugar, eggs and oil in a bowl - I use my trusty Kenwood Chef with the beater attachment - and don't worry, it will look slightly split at this stage!


Carefully add all the dry ingredients and mix well for a few more minutes.


Stir in the grated carrot and mix well and divide the mixture into the three tins.


Bake for 20-25 minutes, until the cake begins to come away from the side of the tin.


Leave the cakes to cool slightly in the tins, then turn them out and leave them to cool completely.

For the cream cheese frosting
Blend all of the ingredients together for at least 5 minutes, but take care not to over beat or the mixture will go runny!


When the cakes have cooled, sandwich them together with the frosting and carefully dust over some ground cinnamon. Delicious!